If you're a chocolate and peanut butter lover, you have to try this recipe. The different degree of chocolate sweetness and the savoriness of peanut butter melting in your mouth together is just heavenly perfect! And the plus side, it is very easy to make.
Ingredients:
Dark chocolate - 50g
Milk chocolate - 30g
White chocolate - 60g
Butter - 8g
Peanut butter - 20g
Powdered sugar - 5g
Salt - 1 pinch
Directions
1. Melt the dark chocolate, milk chocolate and white chocolate separately. Keep the melted chocolates in 3 different pastry bags.
2. Squeeze the dark chocolate into dessert cups. Toss each cup gently to flatten the surface of the chocolate.

Photo source: 쿠킹트리 : Cooking tree
3. Keep in the refrigerator for 15 minutes.
4. In a bowl, combine butter and peanut butter. Stir well.
5. Add in powdered sugar and salt. Stir again and store the mixture in a pastry bag.
6. Squeeze the peanut butter mixture at the center of the dark chocolate layer surface, then squeeze milk chocolate around the peanut butter mixture.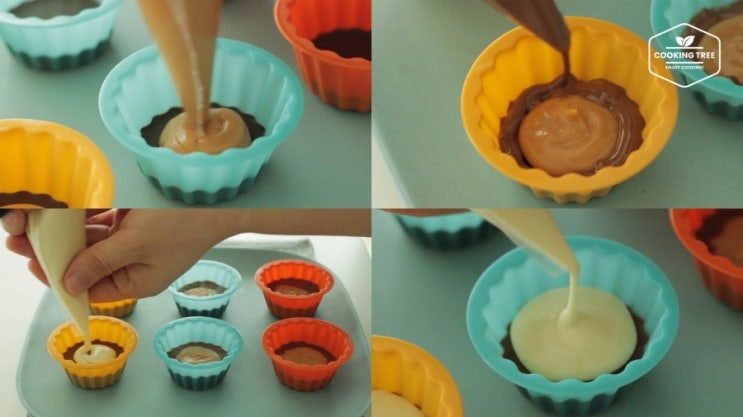 Photo source: 쿠킹트리 : Cooking tree
7. Put it in the refrigerator for another 15 minutes.
8. Finally, squeeze the melted white chocolate at the top of the milk chocolate layer and put it in the fridge for 30 minutes.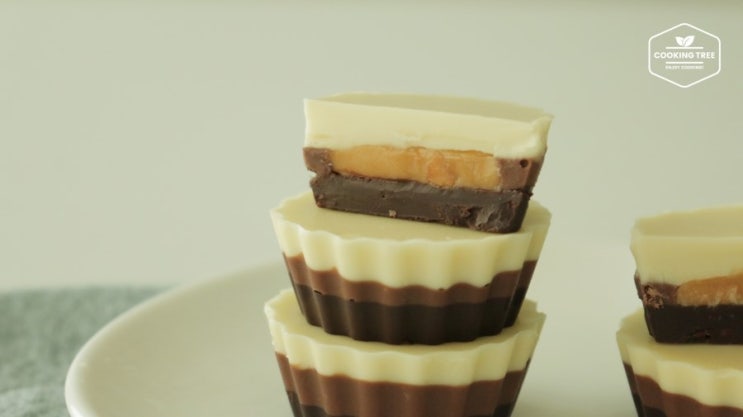 Photo source: 쿠킹트리 : Cooking tree
Recipe and all photos by 쿠킹트리 : Cooking tree