Chances are, you've noticed foreign workers selling jeruk buah at traffic lights. But did you know that these workers are hired to sell mangoes in jars at traffic signal intersections, while their 'bosses' can rake in earnings of up to RM48,000 per month?"

This is one of the latest tactics employed by mango sellers, who are increasingly opening 'branches' at major traffic signal intersections across the country.
Although this practice is illegal, authorities in this state have not taken legal action against these street mango vendors, considering the economic struggles of the people in the post-COVID-19 era.
As reported, their employers can generate sales of at least RM48,000 per month without the need to rent premises or apply for licenses from local authorities. Naturally, public sympathy is directed towards these vendors who are seen standing and walking in traffic congestion from early morning until evening.
Because of this factor, there is an increasing demand that has led to more 'outlets' emerging at almost every major traffic signal intersection. What's even more surprising is that, in a joint operation with the Negeri Sembilan JPJ, some traders hired foreign workers without permits, in addition to local workers from outside the state.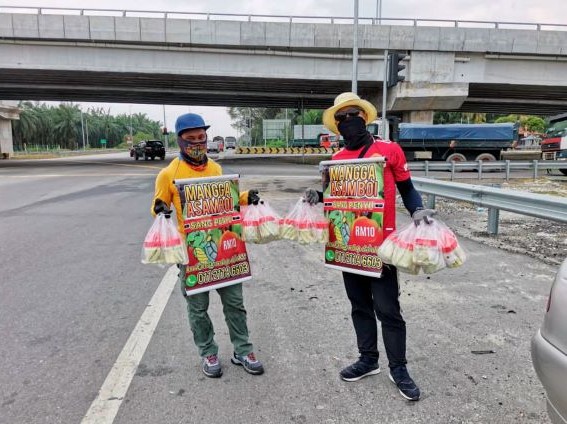 A 19-year-old mango seller stated that their employer sets a target for them to sell 30 jars of mangoes per day, starting from 9 in the morning until evening.
"We sell the mangoes for RM10 per jar, and our 'target' is 30 jars. However, sometimes we don't reach the 'target,' and the average daily sales are usually around 20 jars.
"Our group consists of eight people and is divided into two groups in Seremban. The employer pays us a commission of RM3 for each jar," one of the employees said. 
Based on the survey and conversations with these sellers, it seems like the employers rent a house for the workers, most of whom are not residents of the state. They also set up tents at their trading locations to store stock in barrels, and the mangoes are transported to their gathering location using trucks.