Despite global progress, witnessing some of us still stuck in backward mindsets is disheartening. Recent news on sexism and discrimination among individuals is concerning, and now, we're confronted with business discrimination against non-Muslim people too. 
Apparently for Muslims only.

What's the difference between a Muslim person's skin and mine pulak? I am genuinely asking. pic.twitter.com/N5CsEVjvNL

— Niresh Kaur (@nireshkaur) July 31, 2023
Niresh Kaur, a Malaysian woman, took to Twitter to share her experience with a local beauty parlour, expressing her disbelief with a caption: "Apparently for Muslims only. What's the difference between a Muslim person's skin and mine? I am genuinely asking."
According to reports, Niresh was searching for a place to get a facial and called the spa at Jaya One to inquire about their facial packages. 
My friend called pastu the guy said 'sorry, for Muslims only'.

This appears on his IG.

I too genuinely wanna know why. Cuz I thought aurat only applies men to women - which means I can see my Muslim friends hair and there's no sin committed. pic.twitter.com/GIpW7B02mr

— Niresh Kaur (@nireshkaur) July 31, 2023
The response she received left her stunned when the person on the call said: "Muslims only," upon stating the price as RM70. Rather than arguing, she decided to go to a different spa, avoiding confrontation.
For those unfamiliar, Hannan Medispa is known as a Muslimah-friendly beauty parlour, frequented by hijab-wearing Muslim women, suggesting that their policy is influenced by the concept of 'aurat' for Muslim women, which might explain why they do not accept non-Muslim customers.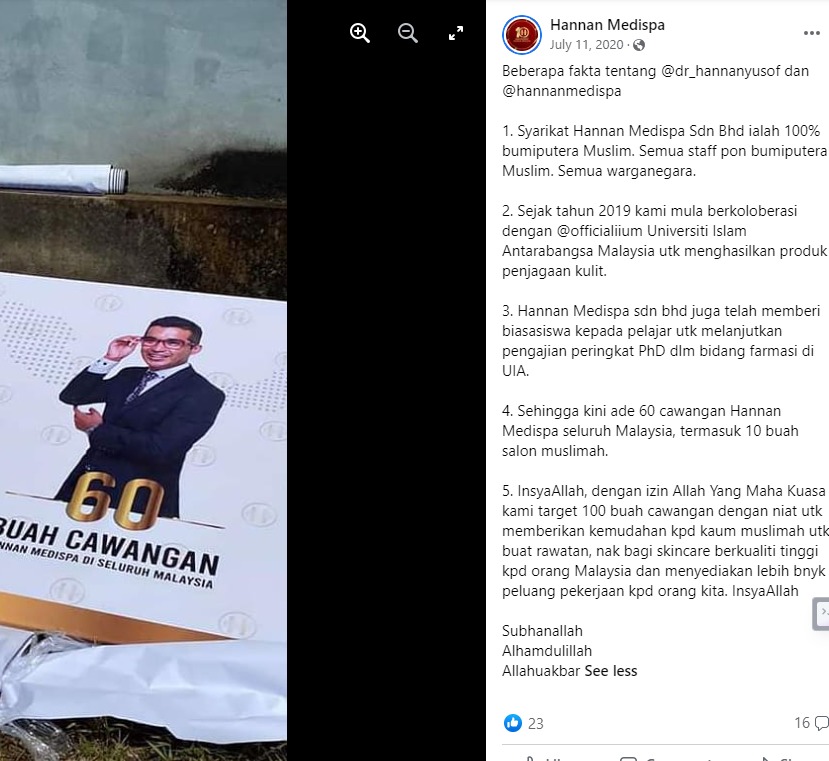 Niresh, as a woman, was perplexed about being denied making an appointment all because she wasn't allowed to see Muslim women's aurat.
Her tweet caught the attention of many netizens, leading the beauty parlour to address the claims by sharing a testimony from a non-Muslim customer on their social media page.
In light of the incident, Niresh pointed out that this discrimination might be limited to the specific branch she contacted and not representative of the brand as a whole. 
This raises questions about the consistency of policies across different outlets and the need for greater inclusivity in businesses.