There has recently been a lot of coverage concerning restaurateurs overcharging customers for meals that aren't really worth so much.
However, if you are a regular at the popular Malay restaurant Sambal Hijau, you are aware of how expensive it has become in recent years.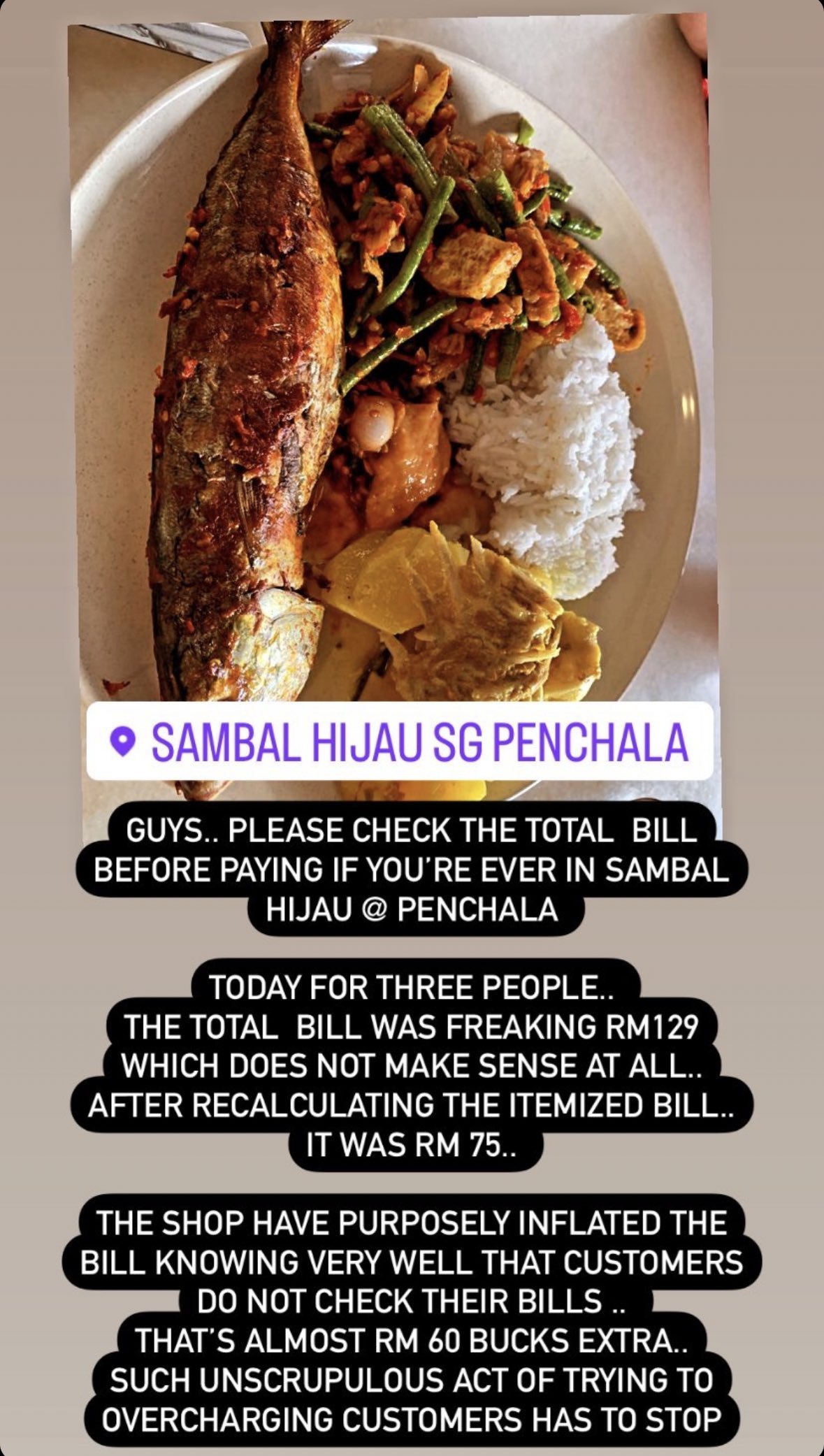 Just a few days ago, this customer and two other friends were enjoying lunch at the abovementioned establishment when they discovered that they had been overcharged with a bill totaling up to RM129.
We know 'nasi campur' isn't as inexpensive as it used to be, but we're quite sure a dish of rice, fish, and veggies would not cost RM129. When they went to the person in charge to have the bill recalculated because it obviously didn't make sense, the actual amount came up to RM75, which was about RM54 more.
The customer claims that because the restaurant is aware that most customers do not check their bill before paying, the dishonest conduct of increasing the overall amount of the bill appears to be a little exploitative.
However, in response to the customer's comment, Sambal Hijau came forward acknowledging their miscalculation error but followed it up with the notion that every item has been priced clearly for customers to see in order to ensure this type of error doesn't happen at all.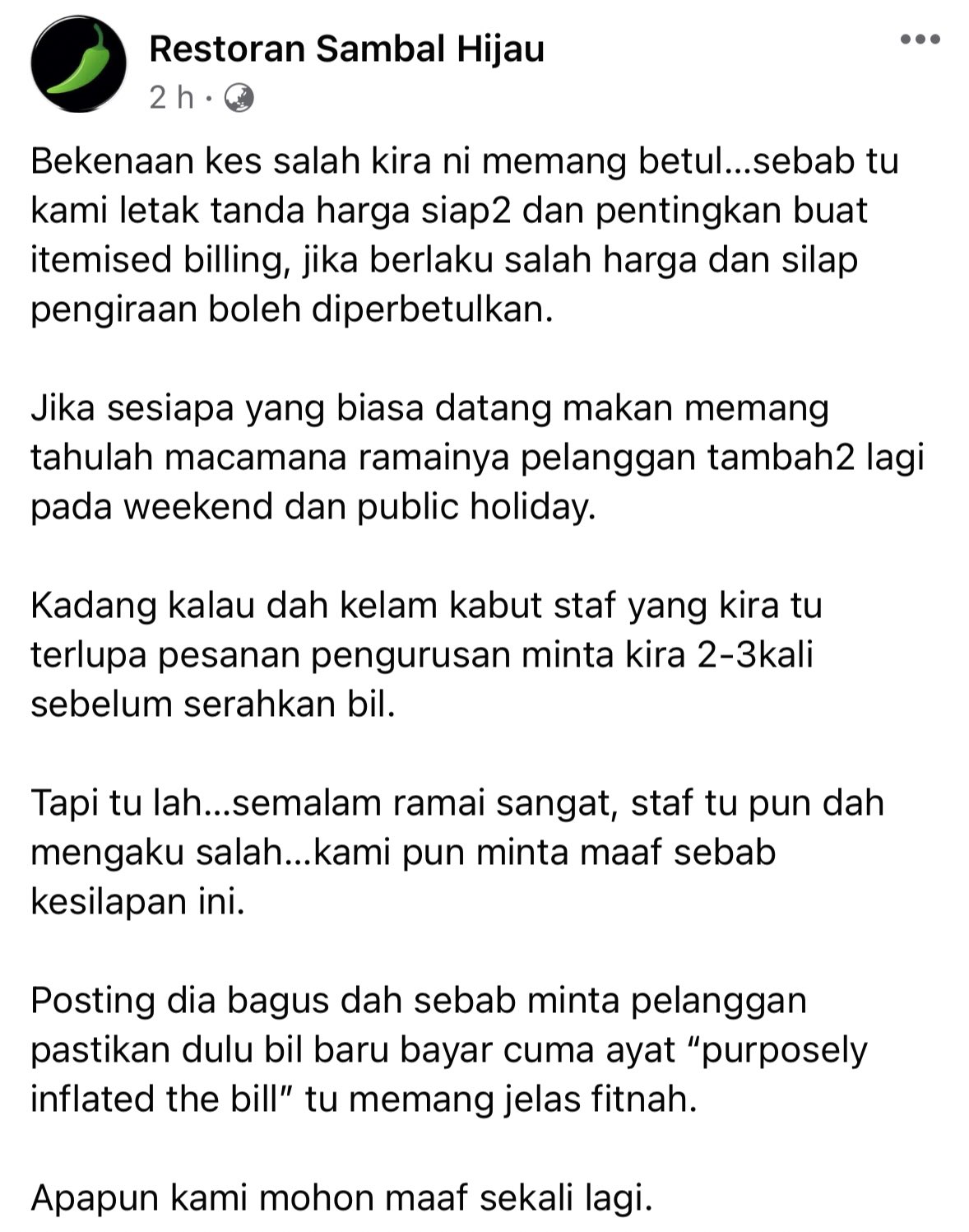 But when it does happen, it's simply because the working staff is so overwhelmed by the crowd that they fail to double-check management's calculations.
All in all, they do admit their mistake yet maintaining that it only happens when the restaurant is crowded which doesn't seem too promising to us. 
The restaurant subtly reacted, stating that although it's good that the customer encourages everyone to double-check their bills before paying, their allegation that the restaurant purposefully increased the bill is mostly false.
wew gila. dah lama avoid sambal hijau for their ridiculous pricing.

— Flux (@flux_z) February 5, 2023
Dah lama sangat tak pegi Sambal Hijau sebab harga dah melampau, sempit.

Banyak lagi kedai makan tengahari kat area Sg Penchala tu yang harga jauh murah.

— Nurul Shima (@NurulShima_3) February 5, 2023
Speaking of Sambal Hijau, drpd dulu lg aku mcm kurang berkenan dgn tempat ni walaupun dekat dgn office. Perasan tak ada berapa ramai waiter they have? Dulu aku suka suruh diaorg kira, bila 1st waiter kira, aku simpan receipt tu. Lama sikit, panggil dif waiter, harga lain. Cont..

— iHarizHaziq (@iHarizHaziq) February 5, 2023
Oo ni tempat T20. Sambal je pun dah rm1 - rm2. Perasan tak strategy dia bagi pinggan besar. Masa ambik sure nak penuhkan pinggan coz nampak macam kosong. Extra tu la yang dia charge lebih. Sini extr sana extra meletup bil.

— lvin (@ansonkia) February 5, 2023
Unscrupulous act of overcharging customer is such an understatement. Its literally haram.

— naguweeb (@nagvweeb) February 5, 2023
In this situation, it's pretty much an agree-to-disagree move, but netizens and regular patrons of the restaurant have stated that the restaurant is known for raising their prices so unreasonably that it doesn't even make sense. 
Few doors down to the left of sambal hijau, there's a kedai makan that serves delicious nasi padang as well. Much cheaper and no crowd.

— Nigel (@nigelkdh) February 5, 2023
Given that there are many other restaurants in the Sg Penchala neighborhood that provide similar but more affordable food. 
Omg my parents pernah kena. Sorg kakak ni ingat makanan diorg belum kira so dia kira2 semua total 55 macam tu but actually ada lg sorang dh kirakan. And total kakak tu kira ard 35 camtu tau! Beza RM20 camtuuu. Diorg main kira jeee bukannya betul2 tengok lauk kita

— Nur Afiqah (@afqhazzy) February 5, 2023
Another person said that her parents experienced the same overcharging issue, where it came up to a total of RM55 but when they requested another working staff to recalculate it, it only came up to RM35.
This compels their staff to specifically guarantee that they appropriately calculate their customers' bills, rather than simply putting any number they like on the bill. 
Nonetheless, some are supporting the establishment, claiming that all customers need to do is double-check and recalculate. That's a little too much, no? Especially when the bill should've been correct the first time? 
Let us know what are your thoughts on this!