With the opening of convenience store chains such as FamilyMart, CU, and Don Don Donki in recent years, Malaysian are more easier to get imported snacks and drinks. Now, Malaysia's favourite convenience store also joining this trend by upgrading 7-11 to new 7 Café. 
Let's check it out what food sold inside!
1. Hot Food Area
Most of the hot food in other convenience stores are sausages, steamed buns, etc. However, the hot food in the 7-11 area is waffle, pizza, chicken nuggets, etc.
Made-upon-order Croffles comes in 3 flavours: Honey Mustard Sausage, Berry Unicorn, KitKat Delight.
2. Cold Drink Area
Other than 7-11 brand coffee, such as: black coffee, latte, etc., there are many Slurpee drink options.  

You can get Slurpee Float topped with softserve of your choice.
The Butterfly Fantasy & Thai Milk Tea with Konjac Jelly is recommended.
3. Bento Area
The bento area include rice and noodle dishes. Moreover, there are desserts in the bento area, such as: colorful mango sticky rice.

 If you are rushing, you can grab ready-made sandwiches there!
4. Dessert Area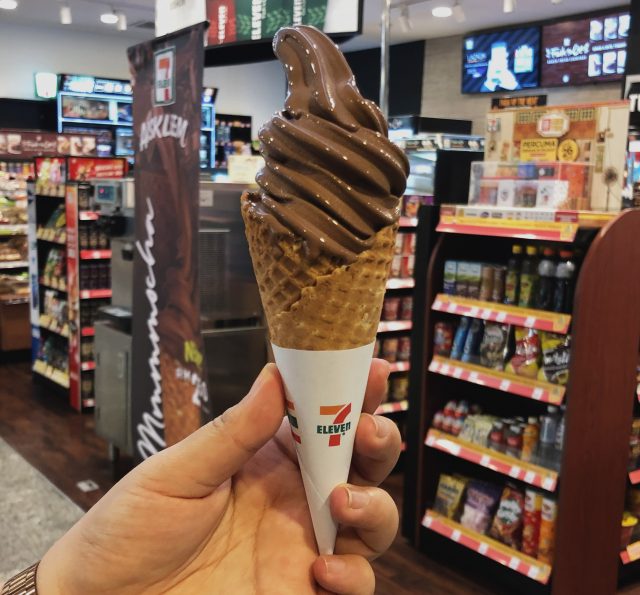 Desserts include cakes, pies and softserve!
You can choose Thai Milk Tea / Gula Melaka softserve or mix both flavours.

In this new 7 Café, ordering also become more convenient! Just simply choosing an order card to make payment!
However, until now 7 Café only opened in certain area. Check it out:
1. 7-Eleven Menara TA One Unit G.04 & G.05, Ground Floor, Menara TA One, 22, Jalan P. Ramlee, 50250 Kuala Lumpur

2. 7-Eleven Desa Sri Hartamas No 16 (GF) Jalan 23/70 A, Desa Sri Hartamas, 50480 Kuala Lumpur
3. 7-Eleven Tun H.S. Lee No. 210 (GF), Jalan Tun H. S. Lee, 50000 Kuala Lumpur
4. 7-Eleven Bukit Antarabangsa No. 18 (GF), Jalan Wangsa 2, Bukit Antarabangsa, 68100 Ampang, Selangor
5. 7-Eleven Saujana KLIA No 60 (GF), Jalan Saujana KLIA 1/A, Taman Saujana KLIA, 43900 Sepang, Selangor
6. 7-Eleven Eco Ardence No 7 (GF), Jalan Eco Ardence D, U12/36D, Eco Ardence, Seksyen U12, 40170, Shah Alam, Selangor
7. 7-Eleven Jalan Kristal No. 10 (GF), Jalan Kristal J7/J, Sek 7, 40000 Shah Alam, Selangor
8. 7-Eleven Jalan Warisan No 5 (GF), Jalan Warisan, Sentral 1, 43900 Sepang Selangor
Have you checking it out? Comment below and share your experience!