In the realm of relationships, the concept of monogamy has always been a topic of intrigue and debate. For some, the idea of committing to one person for a lifetime brings a sense of security and fulfilment. Yet, for others, the boundaries of traditional relationships blur, giving rise to complex narratives that challenge societal norms.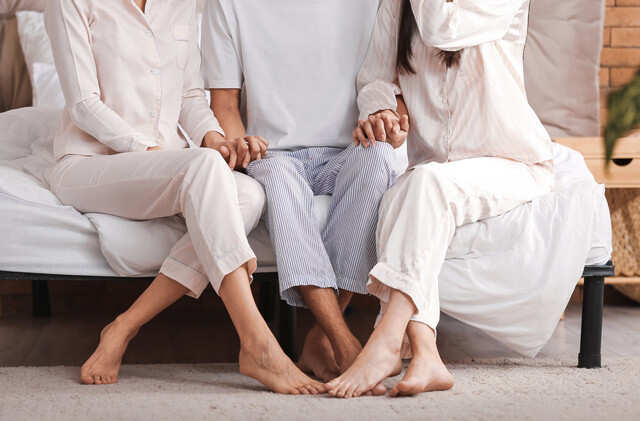 A man recently shared a story of him being the "third wheel" of a married man and shockingly, the wife accepted the relationship and begged him to continue the relationship with her husband. 
Here's the full story:-
From Study Partner To Sexual Partner 
My first love was a married airline pilot. His wife was a flight attendant. Due to my aspiration to become a pilot, I often visited their home to study. Over time, I became like their godchild. They would take me with them whenever they went out, including the husband's trips to various countries. Our romantic involvement came to light one night when we were staying in the same hotel, and the husband sneaked into my room in the middle of the night. Unbeknownst to us, his wife overheard our passionate encounter from outside the door.
A Phone Call From The Wife
After the trip, the wife surprisingly called me and said, "Why don't you just move in with us? At least you can look after my husband. I'd rather he cheats with a man than a woman." I declined her proposition, finding the situation incredibly strange and emotionally complicated. 
Becoming Neighbours
After I turned down their proposition, the couple, however, moved directly across the street from my house. His wife even gave me the keys to their home, allowing me to come and go as I pleased. She even mentioned to me that the pilot would sometimes call out my name in his sleep.
"Is it just a game?"
The pilot was his wife's first love, so she had no intention of divorcing him. Strangely, I happened to be his first boyfriend as well. The pilot and I had private discussions about our relationship. I asked, "Do both of you genuinely want this to happen, or is it just a game to you?" The pilot expressed his desire to continue the relationship, and his wife hoped I would stay with them too!
Threesome...Almost
One day, his wife returned home to find the pilot and me together. She blurted out, "Oh, you guys aren't playing today?" The situation almost leads to a threesome, but I quickly escaped. Outside, I overheard his wife asking him, "So, did he come over today for some fun with you?"
Awkward Shopping Dates...?
Now, we are neighbours, which makes things incredibly awkward. Despite the situation, his wife still includes me in activities like picking up the pilot's birthday presents or using his credit card for shopping. The couple has been exceptionally kind to me. 
Current Updates 
We all work for the same airline now, and I find myself reconsidering my feelings. I shared the story with my colleagues. My colleagues joke that my love life is more dramatic than a soap opera.
--End--
What do you guys think of the story? Is it okay for him to continue? Or he shouldn't be continuing this relationship?