Barry Yeow's life took a tumultuous turn when his addiction to heroin and other narcotics landed him in prison for the first time on August 15, 2008. Over the course of more than 20 years, he found himself in and out of jail, facing caning and struggling with the destructive cycle. However, his last stint behind bars became a turning point as he discovered the transformative power of art. Today, he is not only living a changed life outside the prison walls but also making a positive impact on others through his art.
Embracing art as a path to redemption
During his final imprisonment, Barry made a decision to redirect his focus and find solace in art. Recognizing his own destructive tendencies, he aimed to create something meaningful and purposeful. Through art, he discovered a medium to express his emotions and channel his energy towards something productive. Little did he know that this newfound passion would become the cornerstone of his redemption journey.
A mentor for change
Upon his release, Barry's commitment to personal growth extended beyond his own transformation. He volunteered as an art mentor, returning to the prison to guide inmates on a path of self-discovery through creativity. Witnessing how many inmates remained trapped in their past mistakes and self-condemnation, Barry sought to shift their mindset. 
He encouraged them to focus on themselves, asking thought-provoking questions like, "What if society doesn't give you a second chance? Will you give yourself a second chance?" Through his guidance, he aimed to inspire them to find hope, forgiveness, and belief in their own potential.
The power of art therapy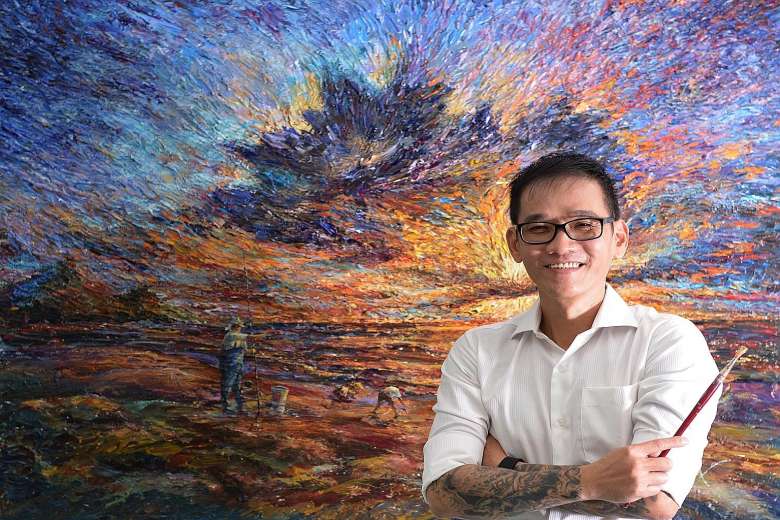 Art proved to be a powerful therapeutic tool for both Barry and his students. As they poured their emotions onto the canvas, the colours and patterns became a language to express their innermost feelings. The art classes provided a safe space for emotional release, allowing them to communicate their struggles and aspirations without judgment. 
From the initial use of darker colours representing remorse and seeking societal forgiveness, Barry witnessed the gradual shift towards brighter hues as his students gained confidence and embraced new perspectives.
Creating a supportive community
Having experienced the isolation of incarceration himself, Barry understands the importance of connection and support. With no family visits during his more than 10 years in prison, he saw his art classes as a way to visit and check in on his students, providing them with the care and belief they desperately needed. Barry's personal experiences as a former offender allowed him to empathize with his students and demonstrate that they are not alone in their journey of rehabilitation.
Defying stereotypes and inspiring others:
Today, Barry has emerged as a symbol of resilience and transformation. He has defied the stereotypes associated with former offenders, proving that individuals can overcome their past and create meaningful lives for themselves. 
Through his art studio named 5seventeen in Commonwealth, Singapore, he now teaches daily art classes and takes on commissioned mural projects. His story serves as an inspiration to others, demonstrating the power of self-belief, artistic expression, and the capacity for change.
His journey from a troubled past to becoming an influential art teacher and mentor showcases the transformative power of art and the resilience of the human spirit. By embracing his own creativity and sharing it with others, he has shattered stereotypes and given hope to those seeking redemption. His story serves as a testament to the transformative potential within all of us, reminding us that with determination and the right support, anyone can overcome adversity and turn their life around.