Last Saturday, the coronation of King Charles III and Queen Consort Camilla took place in London as the new leaders of the United Kingdom, succeeding Queen Elizabeth II.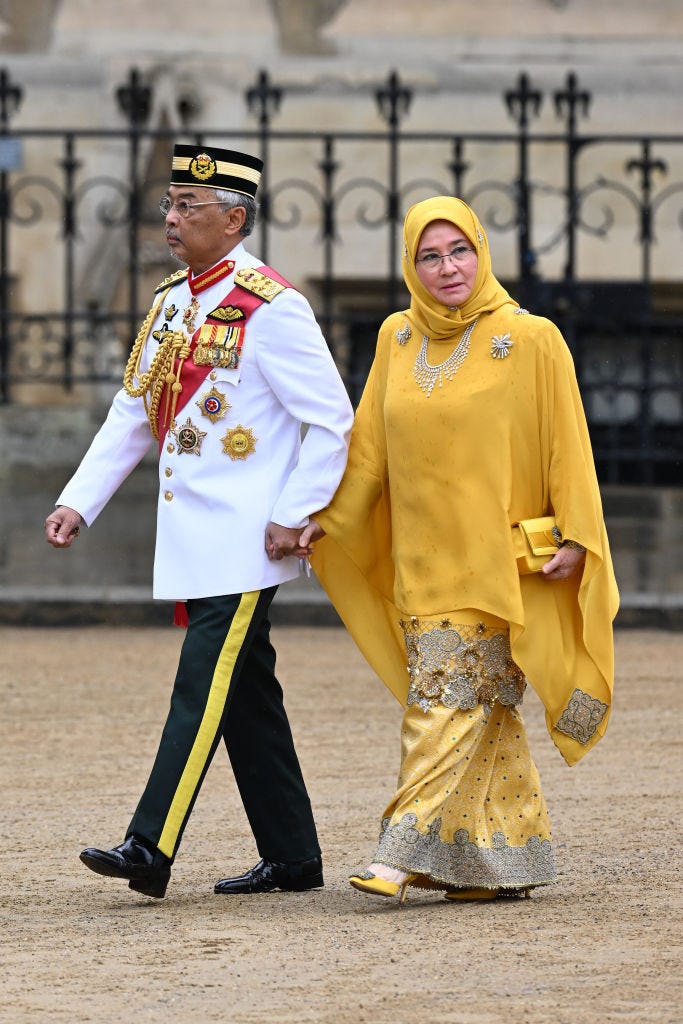 The ceremony was attended by representatives of Commonwealth countries, including the Yang di-Pertuan Agong, Al-Sultan Abdullah Ri'ayatuddin Al-Mustafa Billah Shah, and the Queen Consort of Malaysia, Tunku Azizah Aminah Maimunah Iskandariah.
During the ceremony at Westminster Abbey, Al-Sultan Abdullah wore a white suit with black pants and a red sash, while Tunku Azizah wore a sunny yellow baju kurung with silver accents. 
Tunku Azizahs contemporary yellow 'tenun' kurung was made by the prisoners of the Penor Prison.
Her Majestys attire was also among the top 5 outfits that garnered attention from international media such as Harpers Bazaar. Along with Malaysia, the traditional attire worn by the Kings and Queens of Spain, Thailand, Qatar, and Denmark also made it to the top charts of the most stunning attire during the ceremony.
King Charles III ascended to the throne after the passing of Queen Elizabeth II in September last year. 
The coronation also marked that in addition to being the head of state of the United Kingdom and 14 Commonwealth countries, King Charles III was also crowned as the Supreme Governor of the Church of England.
The traditional attire of the Queen Consort of Malaysia received praise as one of the most beautiful outfits during the coronation ceremony. 
It is a testament to the cultural diversity and beauty that the representatives of Commonwealth countries bring to such events.